The Tale of Eartha the Sea Turtle
Based on the true story of a loggerhead sea turtle name Eartha, this enchanted tale tells the story of a young sea turtle who finds help in the last place she expected.
Through colorful imagery it helps children learn how important it is to help animals who become injured due to man's negligence.
The book is recommended for children ages 3 to 5 and is ideal as a bedtime story for its happy ending.*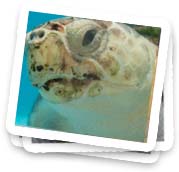 Meet the Real Eartha
The tale of Eartha the Sea Turtle is based on the true story of a sea turtle named Eartha who was rescued and rehabilitated by the Loggerhead Marinelife Center in Juno Beach, Florida.
Read her story, and view pictures of Eartha.
Adopt a Real Sea Turtle
Everyday staff members and volunteers all over the world at various marine care facilities care for, and rehabilitate injured sea turtles. Now you can help too. By adopting an injured sea turtle, you can help aid their recovery.
Many of the adoption programs provide information, a photograph, and updates on the sea turtles condition. It's a great way to help your child get involved.